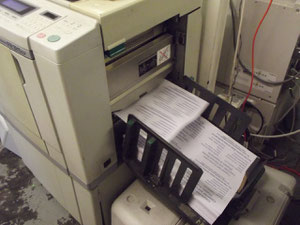 One of our biggest sellers are our economy A5 leaflets.  Printed onto white 80gsm bond paper in one ink colour, they really are a value for money way to promote your business.  Today, we're producing a run of 2500 A5 economy leaflets in blue ink for a local carpenter and builder.  As we print our products here in our own factory in St Neots, I thought we would give yo a little behind the scenes view of what goes on.  Our economy leaflets are printed on a Risograph machine, with a print speed of up to 120 pages per minute.  We run our presses on A3 or oversize A3 paper to enable us to achieve maximum productivity.  This means we can get 4 A5 leaflets out of one press sheet.  We have dedicated software which imposes all our jobs in the most efficient way, so all we need from our customers are files with one image and the software does the rest.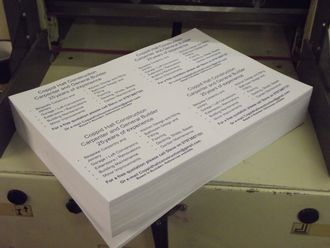 The complete job requires a run of 625 A3 sheets to produce 2500 A5 leaflets.  This run was completed in less than 10 minutes, but as the ink is still wet, we need to leave it for a couple of hours to dry before trimming to A5 before boxing up ready for delivery.
2500 A5 Economy Leaflets, printed same day for £29.  What a bargain!!!!!